Life's Moments Fully Hydrated
Hiking California One Trail at a Time
Stay hydrated the smartest way with HidrateSpark smart water bottles.
There's a crispness in the air that calls friends Britta and Ellen to Big Bear, CA. The town may be small, but its adventures are limitless. "When people think of California, it's the beaches and palm trees that typically come to mind," muses Hannah. But the San Bernardino range is a great place to catch fall colors on an exhilarating hike.
The two friends are recent transplants to California. "My favorite thing about living here is the diverse geography," shares Ellen. Hannah agrees; you can be in the desert one day, the beach the next, and lush greenery and trees for the next week's excursion.
But this time of year, the adventurous duo embarks on myriad trails throughout the mountains. Hailed as "one of the best trail experiences on Earth," the Pacific Crest Trail (PCT) stretches from Mexico to Canada. "We both read Wild and knew we wanted to hike a portion of that trail on our trip," says Ellen.
The PCT conveniently connects from Castle Rock Trail, a 1.5-mile hike that culminates with sweeping views of Big Bear Lake. For the friends, there are times when hikes feel treacherous or just never-ending. Instead of waiting to get to the end, Ellen and Britta challenge themselves to make the journey a beautiful experience, too. "We're basically trying to live that Ralph Waldo Emerson quote," laughs Britta. But the levity is there, as they'll take a quick break to hydrate and journal thoughts of gratitude or simply speak them out loud to each other.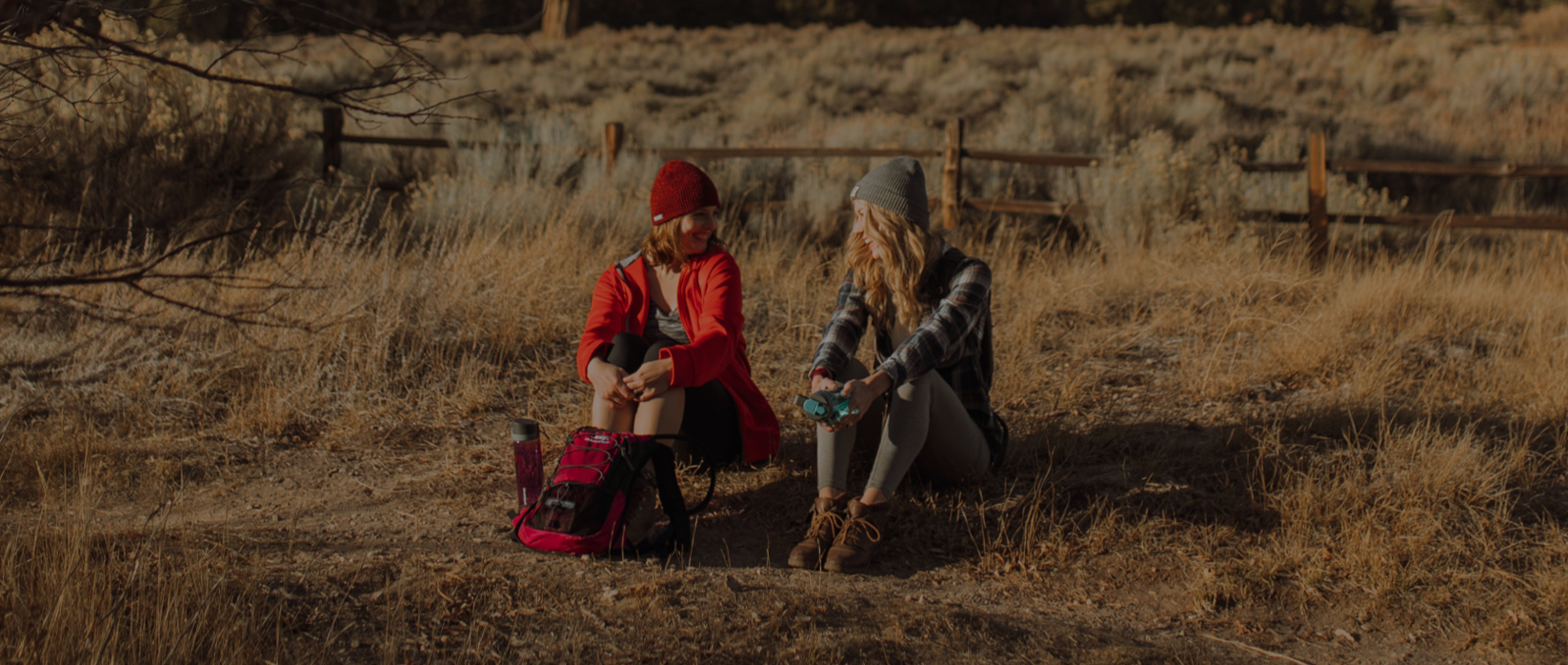 "If either one of us begins to feel physically or emotionally drained we'll just shout 'hydrate!' and there's this immediate shift in energy."
Their gratitude ranges as wide as the surrounding mountains: thankful for great weather on the hike, an exhilarating breeze to keep them going; for having met as California newcomers and sharing a passion for the outdoors; for recognizing they're just one small part in this broad, beautiful landscape. Another huge part of their proactive attitudes is their preparedness.
"You know the phrase 'phone, keys, wallet'?" My version is: water, sunscreen, boots," Ellen laughs, "and in that order."
The friends love that they can track their H2O intake, which they make sure to do even before they set off on their trip. Then when it's time to pack up and hike, their plastic TAP and PRO water bottles are super lightweight and easy to throw into backpacks or even attach to a belt. "The app gives us each a unique daily hydration goal. It tracks our exercise levels, and even altitude, in real time so that we can stay hydrated no matter what."
There's a trust that develops among hiking friends. "Knowing that together we're about to tackle this feat of mind and body – I can't imagine doing that and not feeling my best. That's why I make sure to track my hydration before, during and after, so I can take in every part of the adventure."

Our 6 Favorite Hiking Trails in the U.S.
Whether you're looking for a peak to climb, a leisurely stroll, or a tropical island to forge your own path, our list of hiking trails highlights some of our favorites throughout the United States. Say hello to these happy trails with help from plastic TAP and PRO water bottles – lightweight and easy to carry, plus they track hydration levels at all altitudes.

We are here to hydrate every moment.
Get the most out of hydration and the most out of your moments with the HidrateSpark smart water bottles. Glowing drink reminders, state of the art water track technology, and interconnectivity with our free HidrateSpark App will allow you to add some smarts to your hydration habit.